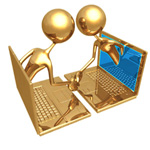 About SplashPipe™
SplashPipe™
is a superior time-varying solution for maintaining customer engagement and process control by creating an
always open
virtual interactive portal directly on any computer in the world.
The benefits created through a
SplashPipe™
solution are driven through improved relationships between information service providers, smart grid controllers, and end users/consumers.
Customer relationships enhanced through
SplashPipe™
are becoming increasing important for companies as they strive to strengthen customer engagement in building value-add 'content marketing', 'content service', and/or 'smart grid controller' models.
More specifically,
SplashPipe™
leverages a patent-pending
Artificial Intelligence
engine for
controlling what goes where when™
to provide several key benefits for clients:
| | |
| --- | --- |
| · Priority communication and control channel | [no clutter or spam] |
| · Immediate access to solution-driven control signals | [no waiting for search to occur] |
| · Full-fidelity signal and content projections | [no limitations imposed by available bandwidth] |
| · Privacy maintained | [no personal information exposed] |
| · Works on virtually any electronic device | [context-dynamic experience] |
| · Ultimate in "sticky" and "drive traffic" to create loyalty | [reach out and touch influence] |
| · Mentoring pipeline is established | [content orchestration] |
| · Experience patterns are enabled to develop target habits | [guided, time-varying prescriptions] |
All this in a
production-ready
enterprise-level framework.
Examples of specifically targeted features and benefits for several markets are being applied based upon collaborative engagements for
SplashPipe VIP™
solutions:
If you'd like to learn more about how you could experience SplashPipe™ through a trial and/or have your own branded SplashPipe™, please email us at
connect@splashpipe.com
SplashPipe™ is powered by Impact Video Solutions, LLC (IVS)
Copyright &copy 2002-2016. Patents Pending. All Rights Reserved.